HAND TOSSED & FIRED BRICK OVEN PIZZA
OLD WORLD ITALIAN AND SOUTHWESTERN FLAVORS
We are a family of German, Italian, and Hispanic heritage and our memories are made around our tables.
We genuinely appreciate good food and all that goes into it; collecting the freshest ingredients the seasons have to offer and preparing a meal while we discuss various aspects of life.
The love we experience between us comes out in the food we enjoy with each other. We are so happy to share all of this with you and we hope your experience here at Mia's will always be pleasant – that is what we will strive for.
We invite you to gather around our tables, make your own memories and when you leave here your soul will be nourished.
We all look forward to welcoming you in or packing up your orders to enjoy in the comfort of your own home. Food is a universal love language that everyone understands and we thank you for giving us the opportunity to prepare something for you to enjoy.
Cent' Anni
From the Entire Mia's Family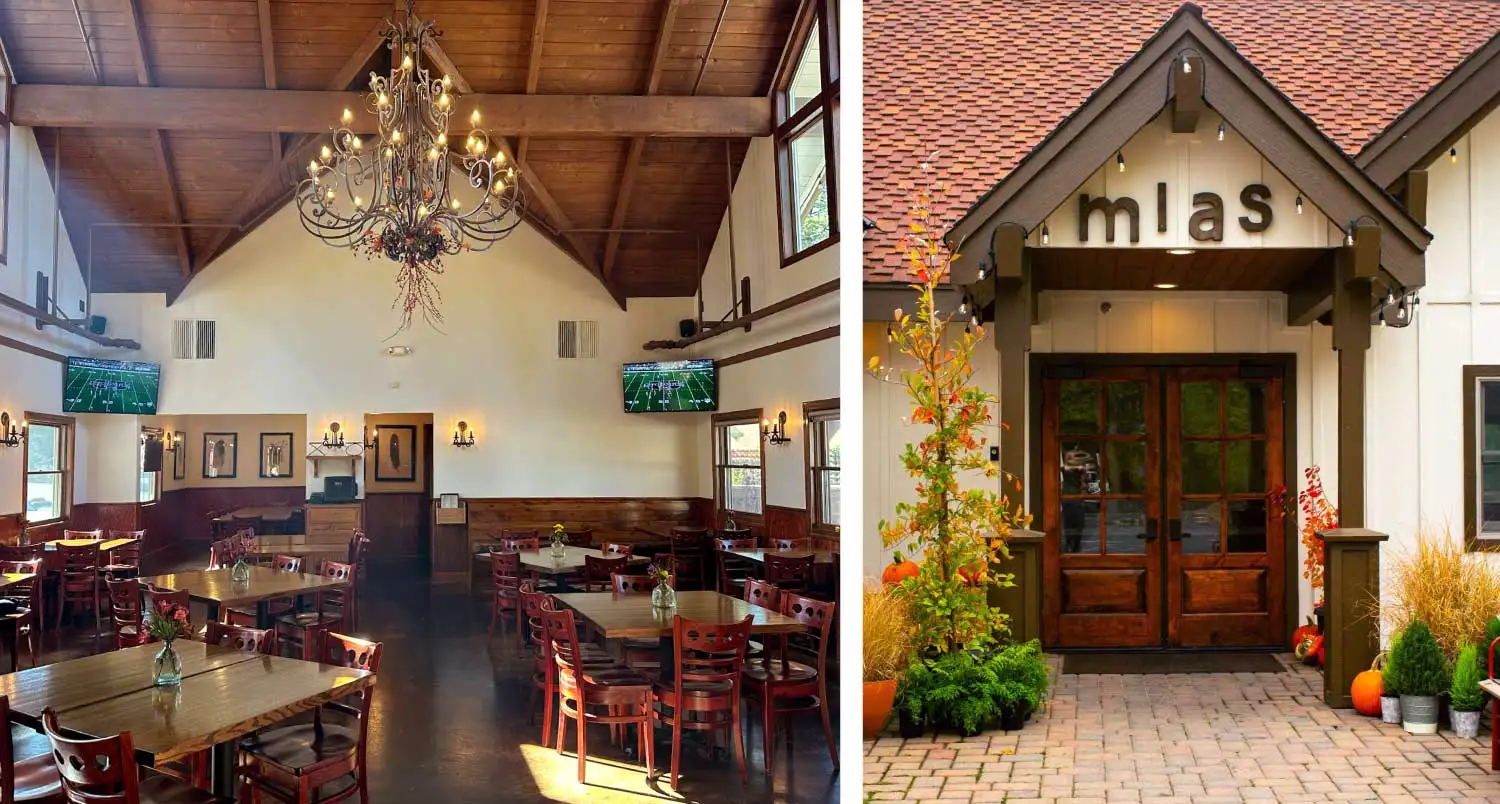 WEDNESDAY and THURSDAY
11:30am – 7:30pm

(Closed Wed, Dec 6 - Private Event)
FRIDAY and SATURDAY
11:30am – 8:00pm
(Closed Sun, Dec 3 - Private Event)
MIA'S IS OPEN YEAR ROUND FOR LUNCH AND DINNER, JUST 5 MINUTES FROM PINECREST LAKE, STRAWBERRY AND DODGE RIDGE MOUNTAIN RESORT.
FOR PICK-UP ORDERS, QUESTIONS & RESERVATIONS
PRIVATE EVENTS & HOLIDAY PARTIES
We are now accepting all inquiries for private events and holiday parties, any day of the week, day or night. Our restaurant can accommodate up to 150 guests and potentially more. We can work with you on the menu, and curate beverages, beer wine.
Select Menu Type and Scroll Down To View
12" gluten-free cauliflower crust available for $5 extra
mustard cream sauce, smoked gouda cheese, pastrami, diced tomatoes and red onions
salami, italian sausage, red onion, oregano, calabrian chili, shaved parmesan
Cholula Chorizo - 22 | 31
pepperoni, Italian sausage, chorizo, green onions, banana peppers, Cholula
Mias Classic Combo - 24 | 33
salami, Italian sausage, pepperoni, bell peppers, red onions, mushrooms, black olives
San Marzano tomatoes, garlic, kalamata olives, capers, pine nuts, fresh mozzarella, chili flakes, basil, parmesan
salami, Italian sausage, pepperoni, kalamata olives, Sicilian olives, green onion, serrano ham, pepperoncini peppers
garlic sauce, wild mushroom blend, balsamic caramelized onions, gouda, fresh mozzarella, green onions, truffle oil, shaved parmesan
Buffalo Chicken - 23 | 32
Sriracha, bleu cheese cream sauce, buffalo chicken, celery, pickled carrot, hot sauce, Point Reyes blue cheese crumbles
garlic sauce, clams, roasted garlic, parmesan, serrano ham, oregano
Chicken & Garlic - 23 | 32
garlic sauce, chicken, bacon, roasted garlic, tomato, green onions
Mia's Margherita - 21 | 30
olive oil, sliced tomato, fresh mozzarella, basil, truffle oil, arugula, parmesan
Sriracha hoisin sauce, pulled pork, red onions, jalapenos, cabbage slaw, Sriracha glaze
pesto, spinach, artichoke hearts, bell peppers, black olives, mushrooms, red onions, tomatoes, lemon juice, feta cheese, cilantro
pizza sauce, mango barbeque shredded chicken, gouda cheese, pizza cheese, pickled onions, jalapenos
Enjoy Weekly Seafood Specials Every Friday Evening
blistered peppers, truffle steak fries, romesco* (v/gf) 
chorizo, leeks, caramilized onions, manchego, gruyere, crostini
buffalo or garlic parmesan
arugula, sweet thai chili sauce
Garlic Bread - 7.25 | 10.50
 roasted tomato sauce, feta cheese, crispy onion strings (v/gf)
salami, pepperoni, mortadella, roasted red peppers, pepperoncini, Italian dressing, provolone, mozzarella, baguette, chips
caramelized onions, swiss cheese, toasted baguette, au jus, chips
cheese, lettuce, tomato, onion, pickle, seeded brioche bun, chips
Chicken Pesto Sandwich - 17
grilled chicken breast, mushrooms, peppers, provolone and pesto on a ciabatta roll
mushrooms, spinach, cheese, pomodoro sauce, mixed green salad (v) 
4 or 8 baby back ribs, Korean BBQ sauce, scallions, sesame seeds, steak fries
chicken, spinach, parmesan, mozzarella, ricotta, alfredo, mixed green salad
Creamy Chicken Picatta - 25
breaded chicken, mushrooms, capers, garlic, lemon juice, white wine cream sauce, seasonal vegetables, fingerling potatoes
mussels, clams, shrimp, San Marzano tomatoes, basil, chili flakes, white wine, linguini
Herb Crusted Petite Tender Steak - 29
balsamic reduction, fingerling potatoes, seasonal vegetables
Enjoy Weekly Seafood Specials Every Friday Evening
Minestrone - cup 4 | bowl 8
Mia's Mixed Greens - 4 | 8
mixed greens, pears, manchego cheese, marcona almonds, meyer lemon vinaigrette*
mixed greens, chicken, bacon, Point Reyes Blue Cheese, green onion, cucumber, tomato, blue cheese dressing
romaine, kalamata olives, pine nuts, parmesan cheese, crouton, pesto caesar dressing*
(ADD CHICKEN +4)
mixed greens, chili rubbed steak, chipotle ranch, pepita salsa, tortilla strips
Point Reyes Apple Walnut - 9 | 15
mixed greens, candied walnuts, granny smith apples, Point Reyes Blue Cheese, red onions, balsamic vinaigrette*
PLEASE LET US KNOW ABOUT ANY FOOD ALLERGIES YOUR CHILD MIGHT HAVE
chicken bites served with house made potato chips
Topped with pomodoro tomato sauce and parmesan cheese (Add Meatball $1)
macaroni tossed with house made cheddar sauce and melted cheddar cheese
(Not included with meal)
Milk
Chocolate Milk
Apple Juice
Lemonade
Pepsi
Diet Pepsi
Dr. Pepper
Sierra Mist
Mountain Dew
Mug Root Beer
Iced Tea
Elevate your dining experience with our homemade dessert selection.
Our desserts change daily and we specialize in carrot cake, crème brûlée, cheesecakes and a variety of cookies.
Be sure to ask your server or view our daily specials chalkboard for your ode to sweetness.
(Our beers on tap change regularly, sometimes faster than our online listings)
– Sierra Nevada – Pale Ale
– Cali Squeeze – Blood Orange (Firestone-Walker)
– Hops of Wrath IPA (Dust Bowl)
– Black Butte Porter (Deschutes)
– Modelo Especial
– Indigeny Ciders (Seasonal)
Beer + Cider (Bottle & Cans)
– Half Dome Wheat (Tioga Sequoia)
– General Sherman IPA (Tioga Sequoia)
– Hobo Pilsner (Dust Bowl)
– Therapist Imperial IPA (Dust Bowl)
– Stone IPA (Stone)
– Fresh Haze IPA (Deschutes)
– Space Dust IPA (Elysian)
– Night Owl – Pumpkin Ale (Elysian)
– IPA (Lagunitas)
– Little Sumpin' Sumpin' Ale (Lagunitas)
– Denogginizer Imperial IPA (Drake's)
– Mind Haze IPA (Firestone)
– Pivo Pilsner (Firestone-Walker)
– Cali Squeeze – Lemon Chill, Tangerine Daze, Blood-Orange (Firestone-Walker)
– Dead Guy Ale (Rogue Brewery)
– Amber (Alaskan)
– Downtown Brown (Lost Coast)
– Tangerine Wheat (Lost Coast)
– Fat Tire Ale (New Belgium)
– Widmer Hefeweizen (Widmer)
– Stella Artois Belgian Pilsner
– Peroni Lager
– 805 (Firestone-Walker)
– Pabst Blue Ribbon
– Corona Extra
– Corona Light
– Budweiser
– Bud Light
– Coors Banquet
– Coors Light
– Michelob Ultra
– Corona Seltzers – Blueberry-Acai, Strawberry-Kiwi, Raspberry, and Blackberry-Lime
– Indigeny Hard Cider – Apple or Blackberry
– Angry Orchard Crisp Apple Hard Cider
– St. Pauli Girl (Non-Alcoholic)
– Terra D'oro – Pinot Grigio (Amador Cty)
– Pasqua – Pinot Grigio (Italy)
– Pine Ridge – Blend Viognier (Lodi) / Chenin Blanc (Clarksburg)
– Joel Gott – Sauvignon Blanc (California)
– Carmenet – Chardonnay (California)
– Phantom – Chardonnay (Clarksburg)
– Diora La Splendeur du Soleil – Chardonnay (Monterey)
– McBride Sisters – Chardonnay (Central Coast)
– Sycamore Lane – Chardonnay (California)
– Austerity – Chardonnay (Arroyo Seco)
– Bone Shaker – Old Vine Zinfandel (Lodi)
– Terra D'oro – Zinfandel (Amador Cty)
– Primaterra – Sangiovese (Italy)
– Chianti Classico Riserva (Italy)
– Conundrum Red Blend – Zin, Petite Sirah & Cabernet Sauvignon (California)
– Diora La Petite Grace – Pinot Noir (Monterey)
– Seaglass – Pinot Noir (Central Coast)
– Belle Glos – Pinot Noir (Santa Maria Valley)
– Boen – Pinot Noir (Monterey, Santa Barbara, and Sonoma Counties)
– Hahn – Merlot (California)
– 19 Crimes – Cabernet Sauvignon (South Eastern Australia)
– Wente – Cabernet Sauvignon (Central Coast)
– Clos La Chance – Cabernet Sauvignon (Santa Clara Valley)
– Hatcher – Cabernet Sauvignon (Sierra Foothills)
– The Fabelist – Tempranillo (Central Coast)
– Leon De Castris – Primitivo (Italy)
– Vin Glogg (A Winter Wine – Dry Red and Port with Spices & Orange)
– Avissi – Prosecco (Italy)
– Bivio – Prosecco (Italy)
– Mionetto – Prosecco (Italy)
It's right off the road and has great parking. Our server Alicia was awesome and we loved the food. We got the chicken and garlic pizza, minestrone soup bowls, and the ribs. They were all on point and we will definitely be going back when we visit Pinecrest Lake again.
I was in California recently and had dinner at Mia's! It was fantastic!! The manchego and pear salad was so fresh and delicious. I also had the chicken piccata which was so tender and had an amazing side of zucchini. I ended the night with the homemade cookies. I would highly recommend this restaurant. It's so cute and well kept. The staff were very friendly as well. I will have to journey back to California again and go to Mia's again to try some more wonderful menu items.
Working in a restaurant is TIRING!! And I must congratulate the whole waitress for their work!! It was a frantic and busy night and they kept a big smile from the beginning of the service until the very end!! The food was really tasty and so well served in portion! I enjoyed the people in there so much that I came back again the following day before heading to San Francisco. I strongly recommend Mia's restaurant for eating and having a great time. Congrats to everyone!!
Pizza was delicious. It hit the spot after a weekend backpacking trip. The Buffalo chicken pizza has mini fried chicken pieces on it, which were delicious. The best Buffalo pizza I've had.
Went to this restaurant in June after a hike. The service was wonderful and the food was great. We were a group of six. I ordered the French dip with chips and it was amazing. Everyone loves the food. Will definitely go back. Our server Kara was wonderful.
The staff is super friendly and the food is delicious and comes out hot and fresh. We got the ribs, chicken wings, and a pizza and it was all great. You can see a guy in the kitchen hand tossing the pizza crusts to order. Great place to come with the family.
Always a must stop when coming down the mountain! Mias has some tasty and unique pizzas, a large beverage menu, and the ambiance has never disappointed! We had the mushroom and puttanesca pizzas this go around! Delicious!
So good! We tried the BBQ chicken pizza and it was bomb! It had jalapeños and pickled onions giving it such a unique and delicious flavor. Crust was so good too. Definitely would go again! Kid-friendliness: They had kid menus and crayons with reasonably priced kid items like Mac and cheese, cheese or pepperoni pizza, and chicken and chips. Kids loved the pizza!
This is our favorite mountain restaurant. Been going here for thirty years. Tonight we had the Pear manchego salad (web description needs updating), wild mushroom pizza and serval Hops of Wrath, All excellent. Service was great. Love coming here.
After riding on Hwy 108 this place was an excellent find. Great priced and prepared food along with great staff attitude. I hope one day I can return and repeat the good experience.
"Savor your recent visit?
We'd love to hear about your experience.